You have a vehicle with worn parts and you want to confirm that we can help you. You would like to know when to call a saddler or you have a specific project. Our team takes stock of the situation for you and comes back in this article on its main competences!
Car saddler
Car seat saddler
It is important that your seats, tubs or chairs remain in good condition.
By entrusting us with the repair or restoration of your car seat, you can improve the safety, comfort and aesthetics of your car.
A car seat in poor condition can compromise the effectiveness of the safety it offers. Seat belts may no longer be properly secured, which greatly increases the risk of injury in the event of an accident. By renovating your car seat, you can ensure that it still offers the best possible security.
Secondly, a deteriorated car seat can be uncomfortable for the driver and passengers, which can make for an unpleasant ride. This is especially true if you spend a lot of time in your vehicle. By renovating your car seat, you improve the comfort of all occupants.
By renovating your car seat, you extend its life. You don't have to buy a new one: it's more economical in the long term! Moreover, on vintage vehicles, it is always preferable to reuse the original elements by giving them a second youth. By renovating your seat, you remain consistent with your vintage car or youngtimer. If your car seat is worn out or stained, a renovation can help it give a new look. This improves the overall condition of your car. You can even take advantage of the renovation to change the color of your seats (or even your interior) to give your home a more modern look. a whole new look to your car.
Our team is specialized in

Alpine and Renault Sport

. We also work on all makes of cars!
Boat saddler
The repair of your boat seat is essential if it is in bad condition.
This is because boat seats can be subjected to extreme conditions such as exposure to salt water, sun and moisture. This can cause damage to the fabric, upholstery and supports, which can make the seat uncomfortable. Seats can also become tarnished or discolored over time. Renovation of your headquarters restores comfort for a more enjoyable browsing experience. In addition, the boat seats must be stable and solid to ensure the safety of the passengers. Restoration can replace damaged or worn parts, reducing the risk of slips and falls. Finally, renovating your seat will refresh the overall of your boat.
Motorcycle saddlery around me
By default, motorcycle seats are not always very comfortable, even on premium roadsters. Originally, they are not necessarily adapted to your morphology or to the routes you take. We can make you a made-to-measure model to ensure you to ensure optimal comfort during your journeys.
In terms of style, making a personalized saddle will allow you to sublimate your machine according to your aesthetic preferences. On cafe racers or customs, the seat is a very important design element that influences the overall look of the bike. If you have a sport bike, we can make light models dedicated to increase your performance (with a carbon base for example).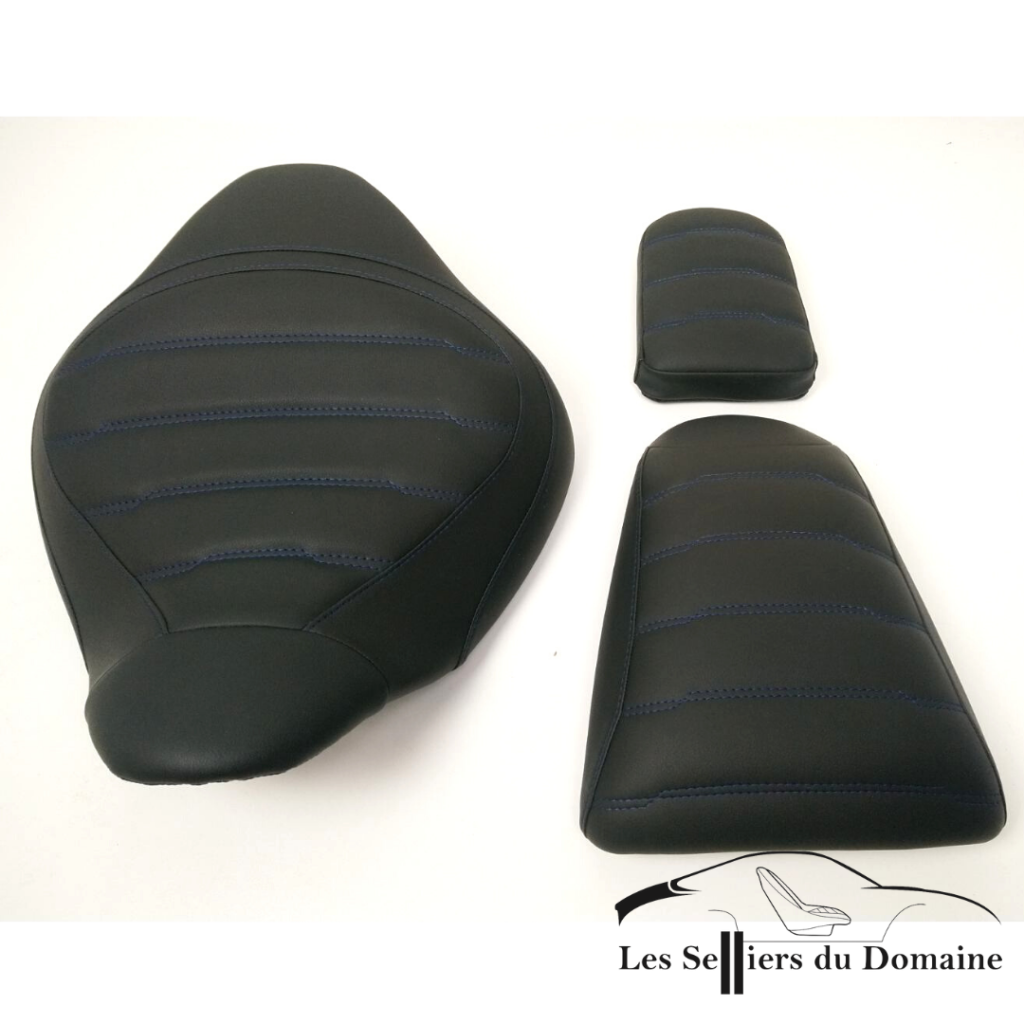 Car saddler
Our saddlery activity is not limited to the repair of seats or chairs. We can completely restore your interior !
We offer for example the making of hoods for more comfort and aesthetics, like on this Lotus 7.
We also garnish steering wheels. In addition to the aesthetic added value, the steering wheel trim provides a better grip and a more pleasant feel during your travels.
For the floor of your car, we offer carpet kits and we make carpets adapted to your model. We are also renovating the pavilions.
With Les Selliers du Domaine, renovate your vehicle from floor to ceiling.
Calling on a saddler for custom-made confections
You have in mind another project of
general saddlery
?
Our craftsmen also produce professional furniture or even leather goods.
Whatever your project, whatever the materials, contact us to obtain a personalized personalized support, from design to manufacturing.
Auto saddlery around me
Our offer is in line with the times. Why throw away if you can fix it? What's more, with sustainable and rigorously selected materials!
Moreover, by entrusting us with a restoration or renovation project, you are promoting 100% French production and a know-how that tends to disappear.
Opt for quality by entrusting your saddlery projects to

Selliers du Domaine

. Browse the reviews submitted by our customers on our

Google page

.